Best VPN For iPhone iOS: Reviews Of Our Favorites (2020)
Disclosure: Some links in this guide are affiliate links. We may get paid if you buy something or take an action after clicking one of these links, at no additional cost to you. It's how we fund the work that it takes for us to create and maintain these guides.
To keep our browsing histories and personal information private and secure, VPNs (Virtual Private Networks) are a necessity. For a reasonable fee, they encrypt the traffic of all our devices, keeping them safe from the prying eyes of marketers, governments, ISPs, and malicious hackers. But VPNs are also useful for accessing geo-restricted content, like streaming services and blocked or censored content.
In any case, a VPN isn't just to be used on your PC – you also need it on your mobile. In a way, mobile devices are quite vulnerable security-wise, as we often connect them to public WiFi networks. Well, public WiFi networks are the perfect place for someone to get access to your personal data – including banking and credit card information.
Once you've decided that it's time to secure your Apple smartphone, you need to choose the best VPN for the task. To help you out, we've prepared detailed reviews of the best VPNs for iPhone iOS users. Our top recommendations offer intuitive, feature-rich, and user-friendly native apps for iOS. Take a gander at our favorites, and see which one is the right choice for you! We've added a handy buying guide at the end, to help you choose.
If you don't have time, here's a quick overview of our top picks:
Best VPNs For iPhone iOS:
ExpressVPN is our favorite VPN for iPhone iOS, and it will run on any iOS 8 and above. ExpressVPN excels in mobile clients, so it offers an intuitive, sleek iOS native app which makes it quite easy to use. ExpressVPN offers a fast, secure, and private connection, and can bypass geo-blocking for almost all popular streaming services. You can support up to 5 devices simultaneously on a single ExpressVPN account.
Pros:
ExpressVPN made it to the top of our list thanks to their reliable and fast connection. They feature over 3,000 servers distributed across 160 locations in 94 countries, which gives them both power and excellent coverage. The broad distribution ensures that there will always be a server near you, making a smooth connection possible. ExpressVPN works well in China, and other countries with VPN restrictions.
ExpressVPN has one of the best clients for iPhone iOS. It provides separate windows for security features and for selecting a server, which keeps the app neat and simple. You can choose a server from a drop-down list. While ExpressVPN only offers one overall desktop kill switch, it features split tunneling, so you can decide which apps the VPN shouldn't run on. This will make it easy to use apps such as mobile banking off your phone while still being connected to your VPN service.
In addition to providing software for iOS, ExpressVPN also offers native apps for Android and Blackberry as far as mobile clients go. For desktop, they have apps for Windows, Mac, and Linux, some routers, and are compatible with some smart TVs, gaming consoles, and media players.
ExpressVPN's reliable, fast connections also make it a great choice for streaming, which you can easily do from your phone. ExpressVPN has been able to bypass geo-blocks for most streaming services, including Netflix, YouTube, iPlayer, Amazon Prime, Hulu, BBC iPlayer, Sling TV, HBO, and DAZN. They also offer a wide array of Netflix libraries, including US, Canada, UK, Australia, Germany, India, Hong Kong, and so on.
This VPN service also offers excellent security and privacy. It uses AES-256 military-grade encryption, employs a number of secure VPN protocols like OpenVPN, L2TP, SSTP, and PPTP, and features DNS, IP, and data leak prevention. Privacy-wise, ExpressVPN doesn't keep any identifying logs, and is based in the British Virgin Islands, which has no data retention laws. This means that your information will stay yours alone.
ExpressVPN offers excellent customer support. You can reach out and ask for help 24/7 via live chat, email, or through a support ticket. The support team is quick to reply and resourceful. Plus, you can get some info from ExpressVPN's vast knowledgebase.
The trial period/money-back guarantee for ExpressVPN is 30 days.
Cons:
Although it's an excellent provider, ExpressVPN is the priciest VPN option on our list. If you pay on a month-by-month basis, the cost is $12.95/month. The yearly plan costs $8.32/month, and the 6-month plan costs $9.99/month.
Additionally, ExpressVPN only supports 5 simultaneous connections from a single account, while other VPNs on our list support more.
2. Best Features: NordVPN
NordVPN is an excellent VPN provider that has a user-friendly, feature-packed native app for iPhone iOS 9 and newer. NordVPN has over 5,000 servers which ensure a fast and reliable connection. It also offers great value for the money, as it supports up to 6 devices and offers a lot of security features for a reasonable price. You additionally get discounts if you prepay for a few years. 
Pros:
NordVPN's native app for iOS is one of our favorites, offering versatile features and settings that you can adjust. It comes with both a list of servers and a map, from which you can choose your region and your server. As is the case with ExpressVPN, NordVPN app offers two separate windows for security settings and server selection, which keeps the screen simple and tidy. The app is also P2P-optimized, for a faster and smoother connection. NordVPN also comes with automatic WiFi protection, which will keep your iPhone connection secure even when you're using public wireless.
One of the handiest features that NordVPN has to offer is a selective kill switch. This means that you'll be able to decide which devices are connected to the VPN at a given time. So if you want to shut down the connection for one device, you won't have to shut it down for all (most VPNs come with only an overall kill switch).
In addition to providing a native app for iPhone, NordVPN also provides native apps for Android, Mac, Linux, and Windows. You can also find compatible firmware for some routers, as well as some smart TVs, gaming consoles, and media players.
NordVPN doesn't fall short when it comes to speed. It has over 5,000 servers distributed in over 60 countries, which will provide you with a smooth hookup from anywhere in the world. Like ExpressVPN, NordVPN will work smoothly in China and countries with similar VPN restrictions. 
This VPN is another great choice for streaming, as it bypasses geo-blocking for all your favorite streaming services. NordVPN uses SmartPlay proxies for smoother streaming. Plus, if you want to watch something from your phone, you'll get automatically rerouted to the appropriate server based on the streaming service you want to access. You can get Netflix, YouTube, Amazon Prime, Hulu, BBC iPlayer, Sling TV, HBO, and DAZN from anywhere in the world. The Netflix libraries NordVPN offers are a bit smaller than those of ExpressVPN, but still include lots of different options, like the US, UK, Australia, Canada, Japan, and the Netherlands. 
NordVPN is one of the best choices when it comes to tight security. They use AES-256 military-grade encryption, use OpenVPN, IKEv2, L2TP, and PPTP VPN protocols, as well as cloaking technology. NordVPN also comes with an ad and malware blocker called CyberSec, and has DNS, IP, and data leak prevention. Additionally, they offer double VPN (multi-hop/double-hop) for further increased security, a dedicated IP, and Onion over VPN (Tor over VPN).
In terms of privacy, NordVPN is based in Panama, which isn't one of the 5 Eyes countries, and also keeps zero logs (not even non-identifying logs). Plus, they offer several cryptocurrencies as anonymous payment options.
Considering all the features that NordVPN comes with, it offers great value for your money along with more payment plan options than most other VPN providers. The most affordable monthly payment is offered by the 3-year plan. If you pay for 3 years in advance, the monthly cost comes out at $3.11. The 2-year payment plan costs $4.44/month, the yearly payment plan is $6.22/month, while month-by-month payments cost $10.64. NordVPN's trial period is 30 days, so you can get your money back during this time window, no questions asked.
NordVPN also offers excellent customer support. Their friendly and knowledgeable customer support team is in-house and answers to queries quite quickly. You can get help through live chat, email, or by submitting a support ticket. They also offer how-to videos and a handy knowledgebase. 
Cons:
The native app for desktop may be a bit slow to respond at times.
3. Best On A Budget: CyberGhost
CyberGhost is the best budget VPN for iPhone iOS – though this is specifically the case if you opt for the 2-year payment plan. Plus, they offer the longest trial period of our recommendations of 45 days. CyberGhost features a well-designed, intuitive iOS app for models 9.3 and above. The app is designed to optimize your speed based on your online activity, which is an awesome solution for most average users. CyberGhost also provides a secure and reliable connection, allowing you to stream thanks to their bypassing of geo-restricted streaming services.
Pros:
CyberGhost's iOS app is all about ease of use. There's little settings-adjustment left to the user, as it assigns a server automatically based on the task you choose (like gaming, streaming a certain channel, and so on). Like IPVanish, CyberGhost is also a good choice for beginners to VPN. Still, the mobile app doesn't sacrifice basic security, and it comes with an ad and malware blocker as well as automatic WiFi protection.
CyberGhost boasts over 6,300 servers in more than 110 locations, which allows for a smooth and fast connection from anywhere in the world. They also do a great job at unlocking geo-restricted streaming service, so you can access Netflix, Amazon Prime, Disney Plus, Hulu, BBC iPlayer, Sling TV, HBO, Hotstar, All 4, Zattoo, and so on. It also opens quite a broad array of Netflix libraries, including Netflix US.
In addition to providing a native app for iOS, CyberGhost also has apps for Windows, Mac, Linux, and Android. It's also compatible with some smart TVs and gaming consoles. The desktop app comes with an overall kill switch, so you can pause your internet traffic if the VPN connection drops.
CyberGhost also uses 256-bit, military-grade encryption, and VPN protocols like OpenVPN, IKEv2, and L2TP. It also utilizes data and IP leak protection. Privacy-wise, CyberGhost is also a good choice. They're headquartered in Romania, which is quite privacy-friendly despite being a member of the EU. Romania has continuously refused to comply with EU's data retention laws, on the basis of them being "unconstitutional." Additionally, they use NoSpy servers and don't keep any identifying logs.
We picked CyberGhost as our most budget-friendly pick as they have affordable plans and offer great value for your money. To begin with, their trial period is longer than that of other VPNs – you get a 45-day window within which you can get your money back (although if you've purchased a monthly payment plan, the time drops to 14 days). Additionally, you can use 7 devices, or 7 simultaneous connections from a single account, which is more than what ExpressVPN (5) and NordVPN (6) have to offer.
The cheapest CyberGhost plan is the 3-year billing plan. On this plan, the monthly fee is $2.91, and you get 2 extra months for free. On a 2-year plan, the cost is $4.06/month, and on a yearly plan, it's $6.59/month. The steepest offer is their monthly payment plan, which costs $14.20/month. If you want a monthly payment plan, we would recommend that you look at one of our other recommendations.
CyberGhost offers support 24/7 via live chat, email, and support tickets. They also offer how-to videos and a broad knowledgebase.
Cons:
While CyberGhost's automatic server selection based on usage is quite easy to use and great for beginners, it does make the app and connection a bit sluggish at times. So you may find the initial connection slower than with the other VPN options.
4. Best For Beginners: IPVanish
IPVanish has the best iOS app for beginners. The app is simple, easy-to-use, and features only basic VPN and security settings. The native IPVanish iOS apps are compatible with operating systems 10 and beyond. Although IPVanish can't access as many streaming services as the other recommendations on our list, it does have access to the most popular ones – like Netflix. It's also a great choice for Kodi users and provides smooth torrenting.
Pros:
Similarly to CyberGhost, IPVanish has a minimalistic, no-nonsense native app for iOS which is quite easy to use. The uncluttered home screen offers a quick connect key and list-based server selection.  More granular region and security settings are also available in the mobile app, although the desktop app has more variety. For instance, while the mobile app uses OpenVPN protocol, you can choose from several different VPN protocols to run from the desktop app. Still, the mobile CyberGhost app does offer a good deal of security options, like blocking LAN access. Unfortunately, CyberGhost offers split tunneling only for the Android app.
In addition to iOS, IPVanish offers native apps for Windows, Linux, Mac, and Android. It's also compatible with some routers, gaming consoles, and smart TVs. IPVanish now allows an unlimited number of simultaneous connections from a single account. This means that you will be able to extend the VPN to all the devices in your home – both yours and those of your family members.
IPVanish is a long-standing favorite among customers, especially for Kodi users, torrenters, and gamers. It provides fast and smooth connection speeds and, according to tests, has been up to five times faster than some other VPNs on short-hop connections. IPVanish may not have as many servers as some other VPNs (they have over 1400 servers distributed across 75 locations worldwide), but they do own their servers. This helps boost performance and improve privacy. This also makes IPVanish a good choice for gamers, who are offered the option of selecting gaming-optimized servers based on ping time.
While other VPNs on this list unblock a wider variety of streaming services, IPVanish doesn't do too bad, either. They manage to bypass geo-restrictions for Netflix, Amazon Prime Video, Hulu, Sling TV, and HBO. Again, they don't open as many Netflix libraries, but you get the main few – US, UK, and Australia, to name a few.
IPVanish keeps up with the top security measures, using AES-256 encryption as well as OpenVPN, L2TP, PPTP, IKEv2, and IPSec VPN protocols. They also have IP and DNS leak prevention. Although they're based in the US, they have a zero-logs policy (not even non-identifying logs are kept), which will keep your personal information and browsing history private. Plus, like NordVPN and ExpressVPN, IPVanish also uses a cloak (OpenVPN obfuscation). It comes with a string Windows kill switch.
IPVanish is another affordable VPN option. The 2-year billing plan offers the best value and costs $3.70/month. The yearly plan costs $6.49/month, while month-by-month payments cost $10/month. Plus, they have an awesome student discount, so students can get 73% off on the yearly payment plan (comes out at $3.25/month). The trial period for IPVanish is 30 days.
IPVanish offers support 24/7 via live chat, email, and ticket. You can also get help from their resourceful knowledgebase.
Cons:
IPVanish unfortunately doesn't work in China.
How To Choose The Right VPN For Your iPhone
Here are the main factors you should consider when choosing.
What iOS Version Are You Using?
Make sure that the VPN of your choice is compatible with the iOS model that you're using. While some VPNs have native apps that can support anything from iOS 9, others start at iOS 10. Additionally, as you'll be able to connect the VPN to other devices in your home, double-check that a given VPN has native apps for (or is compatible with) the different types of platforms.
How Many Devices Are In Your Home?
A VPN is a good way to ensure the privacy and security of all the devices in your home. This may be only devices you own, or also devices owned by the other members of your household. Each VPN supports a different number of simultaneous connections from a single account, so make sure that this number matches the number of devices you want to secure. ExpressVPN offers the least (5) and IPVanish offers the most (unlimited) simultaneous connections.
VPN Usage and Features
Think over what usage you're hoping to get out of your VPN on top of security and privacy. Then, look for the compatible features. Some VPNs are great for streaming, others for gaming; some offer lots of anonymous payment options, while others have nifty functions, like split tunneling, which will allow you to bypass the VPN on certain apps.
Location
Some of these VPNs (looking at you, IPVanish) don't work in China. If you live in a country that imposes restrictions on VPN use, make sure that your VPN of choice can bypass them.
A Few Words Before You Go…
Hopefully, our reviews and buying of the best VPNs for iPhone iOS have been useful in your search.
In the end, three things matter when it comes to running a VPN off your iPhone: speed, security, and ease-of-use. Speed is important because you don't want your phone to lag when you're streaming, gaming, or browsing because of your VPN connection. The trick here is to pick a VPN with a great iOS native app and thousands of spread-out servers, that you can connect to from wherever you are.
Security is important because phones are just as vulnerable as other smart devices of being hacked or attacked by malware, if not more in some cases. When you use online banking apps on your phone or connect to a private WiFi network, a VPN is an excellent added layer of security that will keep you safe from these online threats.
Lastly, ease-of-use is key in being able to manage your VPN and adjust the settings per your needs. An intuitive app makes it much simpler to choose servers, security protocols, use split tunneling where available, and so on.
And guess what – we picked our favorite VPNs for iPhone iOS with these three key factors in mind. Essentially, the VPN you choose should be the one that is best suited for you and your unique needs.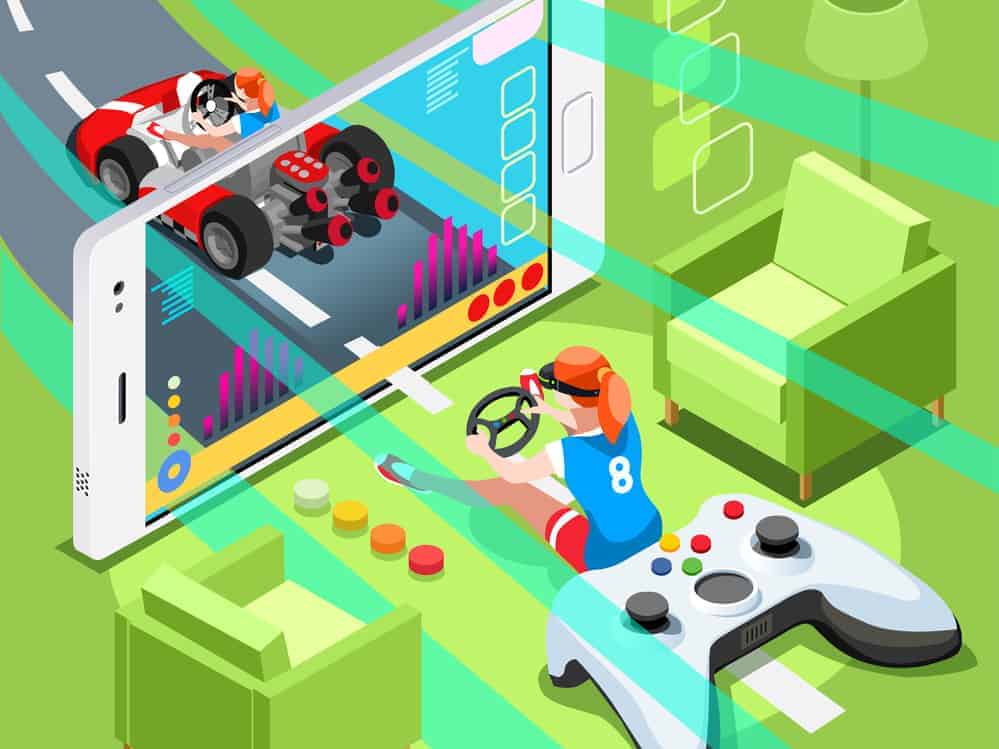 Well, VPNs have also gained some renown for gaming purposes. Initially, a VPN may not sound like the ideal solution for gaming, as due to its encryption protocols and remote servers, a VPN can actually slow down your internet speed.
So you finally decide to get a VPN, and begin to scour the internet for the best option for your needs. However, you keep coming across terminology that's somewhat beyond you. What's the meaning of all those features and technology that different VPNs are equipped with?
Lots of streaming services have implemented geo-restrictions for one reason or another. For instance, the reason why the US Netflix library is richer than the Netflix libraries of other countries is simply due to licensing issues. Some countries other than the US may not have the license to stream a certain show, so Netflix can't share it in that country's library, either.